Pregnancy Safety Belt
Regular price $69.99 $29.99 57% OFF
Thousands Of Pregnancies Are Lost In Car Accidents Every Year
❌ Over 170,000 pregnant women experience car accidents every year

❌ Over 3,000 pregnancies are lost from car accidents every year 
Traditional car seat belts can be potentially dangerous to the pregnant mother's safety. During an accident, the extreme force exerted onto your belly from the lap belt will be extremely harmful to the unborn baby inside you. For expectant mothers the seat belt in its original design, does more harm than good. ....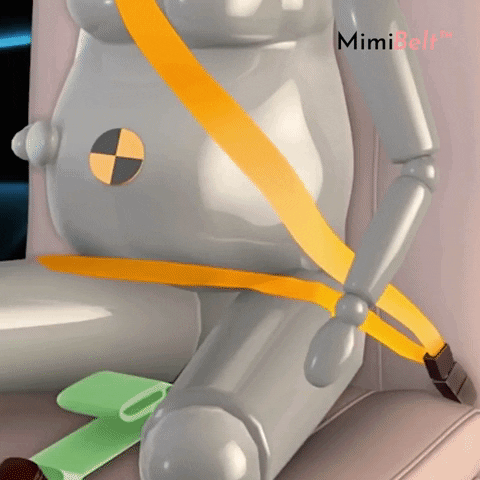 AS SEEN ON:
Why thetrendymarts
™

?

thetrendymarts.™ is a legally made seat belt adjuster and unlike traditional vehicle seat belts, it has been designed to ensure the safety of expectant mothers and their baby whilst on the road by transforming the traditional seatbelt into a 3-point lap sash - a seatbelt configuration recommended for pregnant women.
The thetrendymarts.™ redirects the lap belt away from the belly, securing the seat belt on the legs (not across the lower belly where it can injure your unborn baby). It eliminates the danger of putting pressure on the belly in case of sudden braking or road accidents. 
Can be fitted onto car seats of legally registered vehicles - it transforms the standard seat belt into a 3-point seatbelt (lap-sash), allowing for a comfortable drive whilst ensuring the safety of yourself and the growing belly.
Is thetrendymarts
™

 

Safe?

Through multiple design iteration improvements and crash-tests, the thetrendymarts™ has shown that it reduces the chances of lost pregnancies in car accidents by over 82.7% compared to regular traditional seatbelts.

 
thetrendymarts.™ Seat belt Adjuster is made with thermoplastic rubber (outer-layer) & steel (inner-layer), ensuring durability and the ability to withstand high impact accidents. It can also be used for people with abdominal obesity or sensitive bellies.
Crash-tested and approved for legally registered vehicles in the following countries:
✓

 

Australia
✓

 

New Zealand
✓

 

Canada
✓ 

Europe

✓

 

United Kingdom
✓

 

United States 
Benefits
Safe and Comfortable - thetrendymarts.

™

 

positions the seatbelt across the legs in a safe configuration without constricting the flow of blood. The belt eliminates the discomfort on large bellies, providing expectant mothers a safe and comfortable drive.
Easy To Use - Four simple steps involved in fastening and securing the thetrendymarts.

™

 to your car seat

. All you have to do is securely install the thetrendymarts.

™

 

once for everyday use!
Free Sized - thetrendymarts.

™

 has an adjustable length belt and can be fastened securely to a car seat, fixed in place, and no matter the size, it works!
Perfect for Recovery 

- Anyone who has just gone through an abdominal surgery, stomach surgery, or caesarean section will be able to heal properly without a belt pressing against the affected area on your belly.
Easy Installation Instructions
1:

 

The adjuster's belt should be pulled through the gap between the seat and the backrest
2:

 

Then the belt should be pulled underneath the seat, ensuring that the belt is not twisted
3:

 

The end of the belt should be looped through the upper and lower hole of the buckle respectively
4:

 

The belt should be tightened securely by pulling it downwards
Frequently Asked Questions
Question: Is this product legal and safe?
Answer: The thetrendymarts™ has been dummy-tested and certified for safety - reducing the force of impact on the belly by over 82.7% and is legal to use in various countries (check list above).
Question: Will this become loose on my seat?
Answer: The thetrendymarts™ is extremely adjustable to 99% of stock vehicle car seats. The inner layer is made from steel, outer later is made with thermoplastic to keep our mama's safe. The new design now has more tensile strength to keep you & your baby safe in case of high impact accidents.
Question: I have had surgery near my abdomen and it's really sensitive, will this be of any benefit to me?
Answer: Yes! Although the thetrendymarts™ was made for our Mama's going through pregnancy, this belt can be used for all purposes due to it's design and is very suitable for anyone with larger or sensitive bellies.
Question: What if it doesn't fit or work for me?
Answer: We're incredibly confident you'll love our safety belt. But if you aren't satisfied with the product for whatever reason, we'll provide you a full refund - no ifs, or buts.
Question: Can I get a discount if I order more than one?
Answer: Yes you can, for a limited time we are running an offer where we will provide a 10% (2 pieces) or 20% (3+ pieces) discount on your order when you purchase more than 1 piece.
30-Day Money Back Guarantee
If you don't have a positive experience for any reason, you can contact one of our helpful customer service representatives here and our team will respond back to you within 24 hours.
SHIPPING
Orders are processed within 48 hours. After your order is processed you should receive your tracking information. You can track your order's journey right on our website.   
*Deliveries worldwide take on average 7 - 10 business days.
Available online only!
people are currently looking at this product
Guaranteed Safe Checkout